New @ LCWB: Maxton Clarinet Mouthpieces – Made in Austria
September 23, 2019
RIAL BOXES ARE NOW AVAILABLE! NO RISK, NO OBLIGATION TO BUY! CLICK HERE FOR MORE INFO.
We are very proud to announce that we have become the exclusive distributor for Australia, New Zealand and the Pacific Islands of the magnificent Maxton clarinet mouthpieces.
Maxton mouthpieces are manufactured and quality-assured in Austria using specialist industrial machinery. Years of research and technical development have lead to the creation of a mouthpiece with unique properties for convenience of playing.
Maxton have worked very hard to optimize both the materials and production methods to be able to truly guarantee the unequalled precision of their mouthpieces. With the help of a revolutionary process, the facing curve is milled onto the mouthpiece. As such, the mouthpieces receive the perfect shape so you can achieve the perfect result.
The musician's talent is no longer constrained by the limits of the instrument. Maxton offers you the most modern mouthpiece with a minimal margin of fluctuation. Its precision is unrivalled and it provides you with a more stable, more direct, clearer and fuller sound with a minimum of effort.
Professional orchestral musicians and advanced hobbyists rely on Maxton mouthpieces products, regardless of playing style. They can feel the difference from embouchure to attack to adjustment – every time, every day.
Maxton – who are they?
Maxton is managed by Martin Fluch, a professional musician and instrument maker. As a professional clarinetist with the Austrian ORF-Radio Symphonic Orchestra in Vienna (RSO), he fully understands the artist's aspiration as well as necessity for constant improvement. The Viennese orchestra tradition, very much embodied in Martin Fluch himself, is setting international standards. At the basis of this lies the quality of the instruments. Like the skills of a musician, this very basis also requires constant challenge and development.
Martin founded Maxton in 2008 with this thought in mind, and has dedicated himself to musical innovation ever since. Today, partners from
around the world swear by Maxton. Maxton's work starts where other products have reached their limits. Because quality is their paramount concern and because they are constantly optimising our processes, Maxton can offer you perfection as you have never experienced before.
The company does not source any parts from third parties. Instead they build them themselves with the help of their partners. They utilise the latest scanning and laser technologies. Their highest priority during the manufacturing process is to constantly analyse the timbre while making technical adjustments.
Experience these fine quality products for yourself, so nothing may stand in the way of realising your true artistic potential.
From Camille to Arnold in Classic and Flexilis
The Maxton mouthpiece is available in different tip openings and facing lengths – there is a Maxton for every player and for every style. Each series comes in two "flavours": Classic and Flexilis.
Maxton Classic
The Maxton Classic mouthpiece is the all-rounder. Made of plastic, the result is a direct sound that is unmistakable in its clarity. The stable sound guarantees reliability. Maxton Classic surpasses your expectations and provides a convincing listening experience.
Maxton Flexilis
The Maxton Flexilis mouthpiece shines with outstanding precision and a fuller sound. This mouthpiece is made of a newly composed material with synthetic caoutchouc (rubber). It forms a more dimensional mouthpiece, creating a brilliant sound experience and blending seamless timbres. With Maxton Flexilis, the Classic series is expanded with a darker but more sensitive tone, which creates a softer sound experience.
The Tune-Tools
Maxton offers you the perfect tools to achieve the best sound. All of the Maxton mouthpieces come with the Maxton Tune-Tools:
Tone Rings
Special synthetic rings for a perfect seal between clarinet and mouthpiece. Our Tone-Rings come in different sizes, allowing a very precise fit inside the barrel. As a result, the Maxton mouthpiece can be used with any Bb/A clarinet and any barrel size. Replacement rings are readily available and cost less than a cork replacement on a traditional mouthpiece! Another advantage of the rings: if one breaks the day before a performance or mid-concert, it takes 5 seconds to put a new one on. No need for a trip to the repair shop to have your mouthpiece cork replaced if and when it breaks.
Driver
Inconspicuous, but indispensable. The little screwdriver will allow you to loosen and change the rings in one simple move.
Quick Groove
These patented grooves facilitate the changing of the Tone-Rings while preventing damage to the surface. Fast leverage, fast tuning.
Reed Recommendations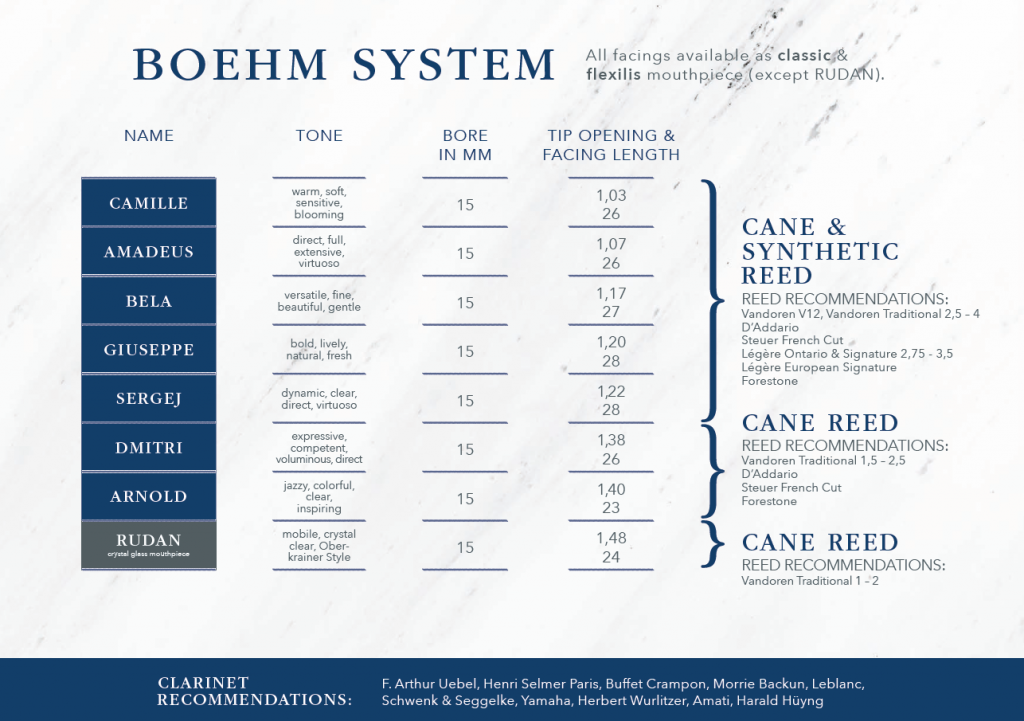 Keen to Try?
Are you keen to try this mouthpiece for yourself? Feel free to visit us in store at 141 Kembla Street Wollongong during opening hours and we'll have them ready for you. All you need to bring is your clarinet, your favourite reeds and your ligature!
We recommend you allow at least 1 hour to try the different mouthpieces. We also recommend you try them with a few different reeds and – if you have more than one – different ligatures.
Too far from Wollongong to call into the store? No problem, we can send a risk-free and obligation-free Trial Box to anywhere in Australia and New Zealand with 4 mouthpieces of your choice. You can keep the mouthpieces for 1 week before returning them. Proof of ID, a valid credit card number and a security bond is required. To get the ball rolling, please fill out the application form here.
For Music Retailers
We are looking for dealers around Australia, New Zealand and the Pacific Islands. If you are interested to stock these incredible mouthpieces, please contact us. No minimum purchases required.