Description
François Louis reeds are made from high-quality French-grown Rigotti cane. The Excellence saxophone reeds have been developed to meet jazz saxophone players' expectations: consistency, strength and durability. Its progressive flexibility on the longer portion helps to produce a fuller and deeper tone on most popular jazz mouthpieces while maintaining body and stability in the higher register.
Features
Suitable for: tenor saxophone
Available strengths: 2.0, 2.5, 3.0, 3.5, 4.0, 4.5, 5.0
Comes in a box of 10 reeds
Made from: Rigotti cane, grown in the Var region of the French riviera
Finish: unfiled cut
Strength Chart
Click to enlarge.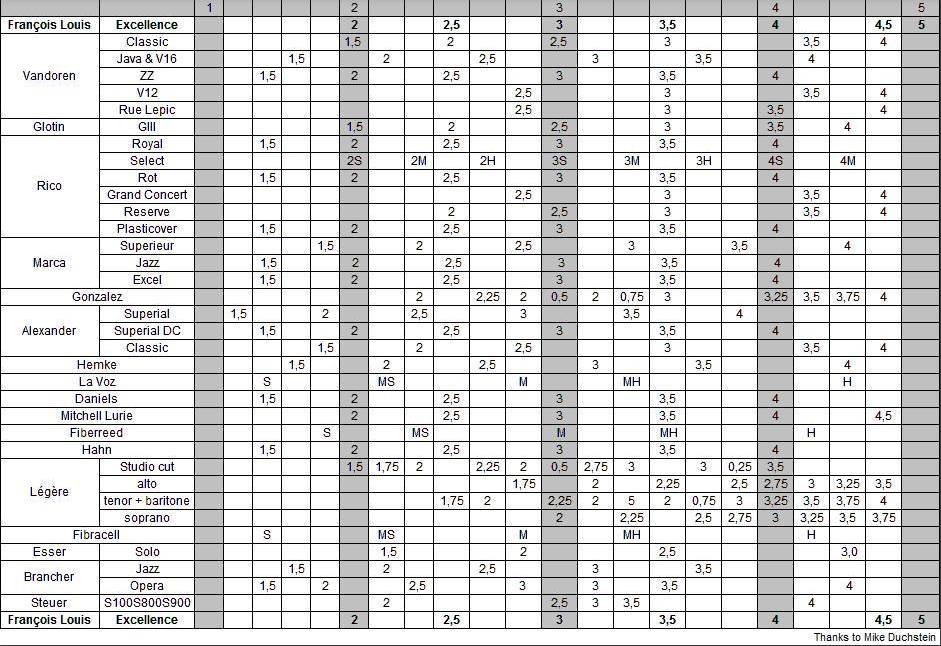 About François Louis
Musical instrument maker François Louis was born in Brussels, Belgium in 1954. Using the experience he had acquired in the field of mechanics during his five years as a motorbike competition mechanic, he modified the original mouthpiece of his saxophone. His teacher, Bernard Loncheval, as well as many Belgian professionals such as Pietro Lacirignola, and later Willy Vandewalle, Steve Houben and others, were interested in the properties of this "souped-up" mouthpiece and asked him to modify their own pieces.
1980: François builds his first wooden mouthpiece. He designs a new saxophone mouthpiece chamber and registers his first patent.
1982: François establishes himself as repairer/builder of woodwind instruments.
1985-86: François works on the conception of a metal tenor mouthpiece. He creates some resin' prototypes and flies to New York to meet players like David Liebman, Michael Brecker, Billy and Glen Drewes, Steve Slagle, Gary Smulian, Ralph Lalama, and Dick Oats. He shows them the results of his work.
1987: François creates mouldings of a short series of a solid silver tenor sax mouthpiece. He registers a new patent on saxophone mouthpieces. Bob Berg acquires a solid silver François Louis mouthpiece.
1989: François establishes a new workshop in Brussels. In this period, he meets many new players, including Emanuele Cisi, Tim Ries, Jorge Pardo, Andy Middleton, François Théberge, Tony Lakatos, Gary Keller and many others. He develops new tools and makes more and more mouthpieces for musicians all over the world: the United States, Japan, Russia, Brazil, France, Germany, Italy, United Kingdom, Finland, Sweden, Denmark and of course Belgium.
In 1997-98: François teaches numerous master classes at The Miami University, Sibelius Academy of Helsinki, Manhattan School of Music of New York, William Paterson College of New Jersey, in Turin, Italy, at the "CMB" in Puurs, Belgium, at the conservatorium of Brussels and, more recently, Antwerp, Leuven and Ghent. He builds his new workshop outside of Brussels and develops and designs a new clarinet and saxophone mouthpiece ligature: "The Ultimate Ligature".
1997: a project for a creation by famous Belgian contemporary music composer Philippe Boesmans for saxophonist Fabrizio Cassol playing on a new Francois Louis® instrument is imagined. He signs a contract with association "Brussels 2000" for the realisation of the first prototype of his new instrument in July 1999 and works on this project until the Paris creation in October 2002.
2003: François achieves the development of the Aulochrome, together with Designer-Engineer François Decorte. He also develops personal concepts for the design of a new reed for saxophones and clarinets. It is then that the François Louis reed is born.