Description
ChopSaver is more than just a lip balm, it's a lip treatment. ChopSaver is an all-natural, herbal lip care product created by Dan Gosling, a professional trumpet player. If you suffer from dry, chapped lips and you're still looking for relief, you've come to the right place, musician or not!
ChopSaver was originally invented to help the lips ("chops") of brass and woodwind musicians and the problems that can occur from long practice sessions and performances. These can be everything from normal dryness and fatigue to chapping, bruising, soreness, and in extreme cases, cuts and splitting. If it's effective enough for people like that, you know it can handle any lip problem, regardless of the cause. In fact, dermatologists have been recommending the product for many years for their patients with chronic lip dryness, including the drying side effects of chemo therapy and other medical treatments.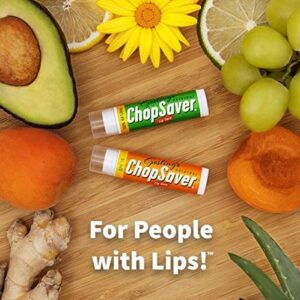 What Does It Do?
ChopSaver helps prevent and soothe lip swelling, chapping and soreness better than any other product. It provides immediate relief and faster recovery time. ChopSaver doesn't numb your lips like some other products. It just makes them feel normal again after a long day of practice or performance, or a long day in the wind and sun. Non-musicians love ChopSaver for the same long-lasting, soothing qualities and relief that it brings to musicians.
What's In It?
ChopSaver is made from herbs and natural emollients with superior healing and moisturizing properties and contains no petroleum. The list includes shea butter, mango butter, aloe, vitamin E and botanicals known for their ability to fight chapping, swelling and soreness. Chief among them is Arnica, a natural anti-inflammatory. In addition to being petroleum-free, ChopSaver contains no alcohol, no camphor, no menthol, and no chemical preservatives which are commonly found in other lip balms. ChopSaver is also gluten-free. The fragrance is a light, refreshing blend of four citrus oils. The complete ingredient list is as follows:
Castor Oil*
Candelilla Wax
Beeswax*
Shea Butter
Mango Butter
Aloe Vera
Carnauba Wax*
Avocado Oil*
Apricot Kernel Oil*
Grape Seed Oil*
Arnica
Calendula*
Comfrey
Raspberry Leaf*
White Willow
Vitamin E
Citrus Essential Oils
Ginger Essential Oil*
Pea Isolate
(*Certified Organic)
The sunscreens in ChopSaver SPF 15 are avobenzone, octinoxate, octisalate, and octocrylene