Description
Syrinx's smallest French horn, the SFH-101, is available in both F and B Flat. Its small wrap and bell making this horn lightweight and easy to hold for the youngest of players.
​An adaptable finger hook and a detachable duckfoot ("flipper") are included to assist players with proper hand placement. The instrument comes equipped with a nylon-covered carry case for maximum protection and comes complete with a Yamaha 30C4 mouthpiece.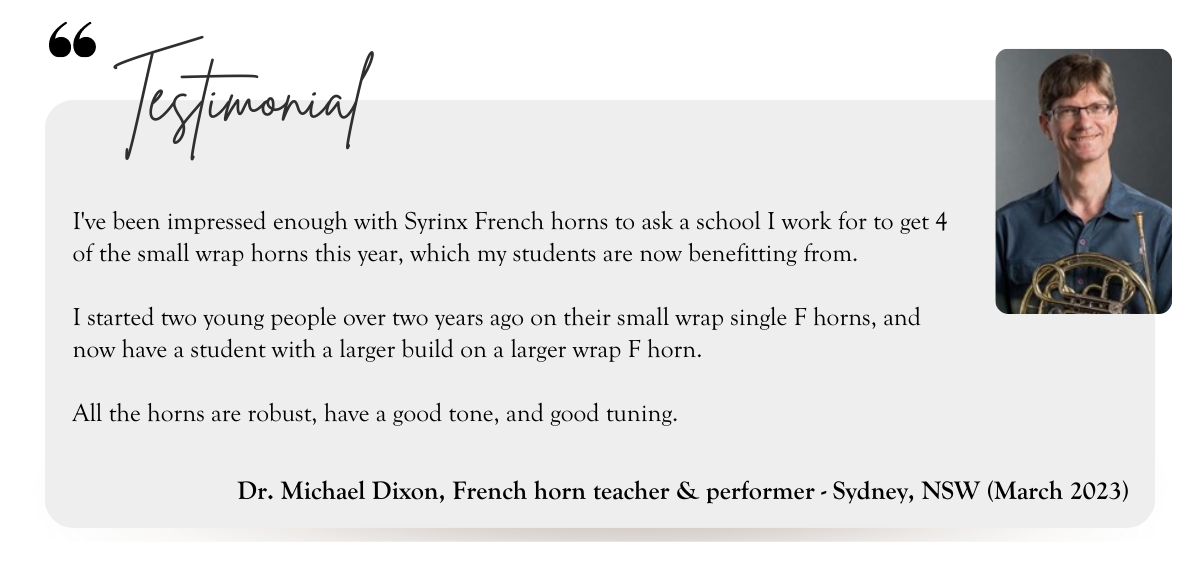 Warranty & Money-Back Guarantee
Newly purchased Syrinx instruments are backed by a 3 year Australia-wide limited warranty and a 30-day Money Back Guarantee.
​If you are not completely satisfied with your new instrument, the Syrinx Money Back Guarantee gives you 30 calendar days from the date of purchase to return the instrument for a full refund of the price you paid at the time of purchase (postage/delivery costs will not be refunded). Note this is subject to the Terms and Conditions found at www.syrinxmusicalinstruments.com.
Features
3 year warranty
French horn in B Flat (Bb)
also available in F (model SFH-101F)
gold lacquered yellow brass body
bore: 11.8mm
bell: 280mm
adjustable finger hook
removable duckfoot ("flipper")
water key
Yamaha 30C4 French horn mouthpiece
nylon-covered hard-shell carry case
About Syrinx
Australian-owned Syrinx Musical Instruments was founded in 2015, from a small shed in a suburban backyard. We are a family owned and operated business, which has grown and expanded both nationally and internationally.
Our instruments have been developed by a musician and repair technician, with durability and repairability at the forefront. As a result, Syrinx instruments have triumphed with exceptional tone quality, consistent pitch, and effortless playability. These are just a few of the features of our instruments, making them a desirable option for musicians of all levels and abilities.
​Our goal is to provide everyone with the opportunity to pursue music and achieve success. We are so confident our instruments offer exceptional quality that they are supported by our 3 year warranty and money back guarantee.